He Prepared a Table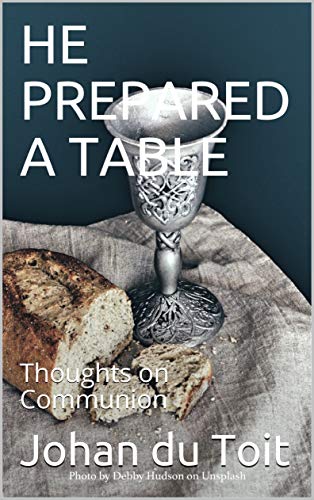 The communion meal is an extraordinary event that the Lord Jesus Himself gave to us for very special reasons. The roots of the Communion Meal go far back, with life-giving truths established deep in God's plan of redemption. When Communion is done with understanding and appreciation, it is a spiritual experience that invites the Lord's presence in a very unique way. All things are possible where He is present!
Communion is not a sad occasion, but rather an event to celebrate with joy. How else can we respond as we come to a fresh realization of the greatness of God's love and grace toward us every time we sit down for this special meal! The fullness of the gospel is summarized in this Table. Beautiful gems of God's love in His plan of redemption await the believer who digs into the meaning of this meal.
The Communion service provides an excellent opportunity to preach salvation to the lost, healing to the sick, and hope to the hopeless. It brings with it the revelation of God's amazing compassion for a broken humanity, struggling with imperfection and weakness, as God's unconditional acceptance inspires them to find lasting peace with Him.