I have noticed through the years that specific words, phrases, or topics dominate Christian talk at certain times, totally random, and apparently to direct our attention to something that we need to look into. History shows that the restoration from the dark middle ages of the church happens with one revelation at a time. It began with Martin Luther nailing his ninety-five theses to the church door of Wittenberg in 1517, introducing the truth that salvation is by grace alone, by faith alone, and not of works—a Scriptural fact that was previously unknown.
Much has been added to our understanding since that time, but we can never say that we now have full understanding of God's plan with the church. A sad commentary on the church is that God always has to raise up a new movement to introduce a new truth, as is so clearly portrayed in the path that the church has followed up to now. Instead of investigating new insights that seem to find traction among believers, the church chooses to view with suspicion any new thing that comes from outside of its own settled doctrines.
What do we do when something like this happens? You go to your Bible and do your own research. See what it says about the new idea that people are talking about; listen to them, and find strong Bible footings to either receive or reject it. Fresh, from the ground up, personal study is the only way to do it right. Daniel the prophet said that knowledge will increase in the last days, (Daniel 12:4) so expect our insight to increase as time moves on. Some believe this points to secular knowledge, and it can certainly be said of the world, but the book of Daniel is concerned with God's plan with humanity, and must be read in that context.
Harpazō is such a word that keeps on popping up everywhere these days. What is harpázō? It is a Greek word, translated in various ways, (as it goes with translations) and the best way to study it, is to study it in its different settings in the Bible.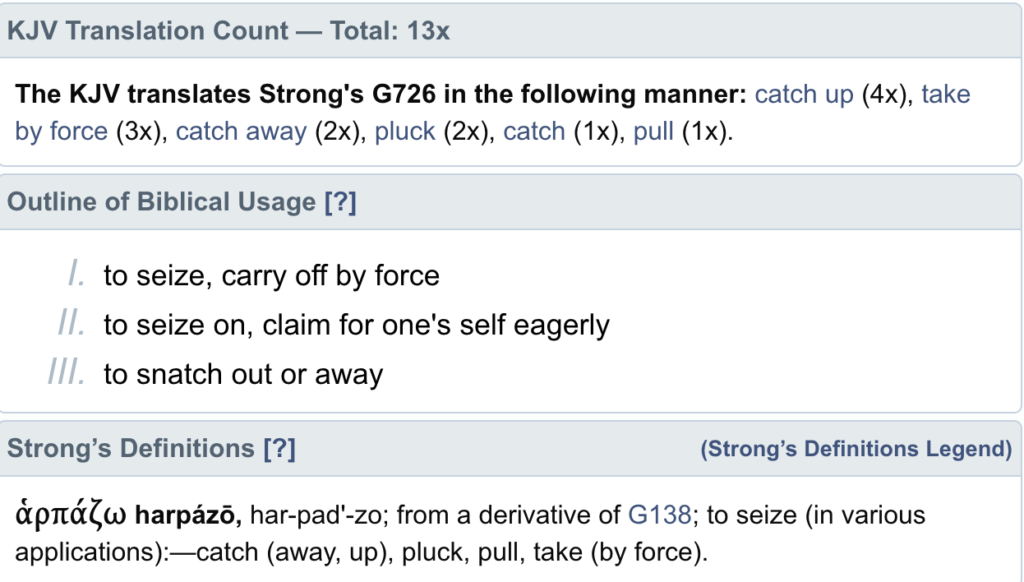 A very handy tool for serious students of the Bible is blueletterbible.org This handy online tool is free of charge, simple to use, and works with several modern translations of the Bible. Let's study this word and how it is used in the Greek Bible. Harpazō is found 13 times in the New Testament, giving us a wide context within which to study its meaning. Below are all 13 mentions of harpázō:
And from the days of John the Baptist until now the kingdom of heaven suffers violence, and the violent take (harpázō) it by force. Matthew 11:12

"When anyone hears the word of the kingdom, and does not understand it, then the wicked one comes and snatches (harpázō) away what was sown in his heart. This is he who received seed by the wayside. Matthew 13:19

Therefore when Jesus perceived that they were about to come and take Him by force (harpázō) to make Him king, He departed again to the mountain by Himself alone. John 6:15

But a hireling, he who is not the shepherd, one who does not own the sheep, sees the wolf coming and leaves the sheep and flees; and the wolf catches (harpázō) the sheep and scatters them. John 10:12

And I give them eternal life, and they shall never perish; neither shall anyone snatch (harpázō) them out of My hand. John 10:28

My Father, who has given them to Me, is greater than all; and no one is able to snatch (harpázō) them out of My Father's hand. John 10:29

Now when they came up out of the water, the Spirit of the Lord caught (harpázō) Philip away, so that the eunuch saw him no more; and he went on his way rejoicing. But Philip was found at Azotus. And passing through, he preached in all the cities till he came to Caesarea. Acts 8:39,40

Now when there arose a great dissension, the commander, fearing lest Paul might be pulled to pieces by them, commanded the soldiers to go down and take him by force (harpázō) from among them, and bring him into the barracks. Acts 23:10

I know a man in Christ who fourteen years ago—whether in the body I do not know, or whether out of the body I do not know, God knows—such a one was caught up (harpázō) to the third heaven. 2 Corinthians 12:2

…how he was caught up (harpázō) into Paradise and heard inexpressible words, which it is not lawful for a man to utter. 2 Corinthians 12:14

Then we who are alive and remain shall be caught up (harpázō) together with them in the clouds to meet the Lord in the air. And thus we shall always be with the Lord. 1 Thessalonians 4:17

…but others save with fear, pulling (harpázō) them out of the fire, hating even the garment defiled by the flesh. Jude:23

She bore a male Child who was to rule all nations with a rod of iron. And her Child was caught up (harpázō) to God and His throne. Revelation 12:5
The verses below are of specific interest to us in these increasingly troubling times:
For the Lord Himself will descend from heaven with a shout, with the voice of an archangel, and with the trumpet of God. And the dead in Christ will rise first.Then we who are alive and remain shall be caught up (harpázō = catch away/up, pluck, pull, take by force) together with them in the clouds to meet the Lord in the air. And thus we shall always be with the Lord. Therefore comfort one another with these words.1 Thessalonians 4:16-18
We know that God revealed His plan with humanity for our comfort, and that His love always seeks to do good to His own, and not to test them beyond what they can bear. His character is clearly portrayed all through Scripture, showing Himself to be loving, compassionate, and caring, even while knowing our failures of life in the flesh. While the unbelievers watch the world's demise in fear and trembling, we look up in the comfort of His promise.
Let not your heart be troubled; you believe in God, believe also in Me. In My Father's house are many mansions; if it were not so, I would have told you. I go to prepare a place for you. And if I go and prepare a place for you, I will come again and receive you to Myself; that where I am, there you may be also. John 14:1-3
The world has reached a point from which it cannot return; the corruption is too deep, and spread too wide, to be rooted out. With that we also see the signs of the Lord's return fulfilled at great speed; time is indeed running out fast. Thank God, the window of grace is still open; if you haven't turned away from following a self-centered life in surrender to Him, please do so now for your own benefit and eternal security. If you have done so at some time in the past, but drifted away, now is a good time to rededicate your life to His Lordship.
We are approaching the last day very fast, and soon we will stand before the Judge to receive our eternal reward. Today is a good time to make some wise choices!
Would you like to receive articles such as this by email? Subscribe here. We never share your email address with anyone, nor use it for anything but these updates.