There is a reason why rocks are used as symbols for the Lord. The steadfastness of His love for us, even when we are shaken; the immutability of His person, and His everlasting Word are among those things. Saints have sung His praises from the earliest times.
The Lord is my rock and my fortress and my deliverer; My God, my strength, in whom I will trust; My shield and the horn of my salvation, my stronghold. Psalm 18:2
For in the time of trouble He shall hide me in His pavilion; In the secret place of His tabernacle He shall hide me; He shall set me high upon a rock. Psalm 27:5
He is the Rock, His work is perfect; For all His ways are justice, A God of truth and without injustice; Righteous and upright is He. Deuteronomy 32:4
More recent poets inspire us with beautiful hymns, drawing from the doctrines of the church that embed powerful truths in our hearts and minds. Augustus Toplady wrote this timeless hymn in 1775, a beautiful reminder of an Old Testament shadow that points to Jesus and His work on the cross:
Rock of Ages, cleft for me, Let me hide myself in Thee;

Let the water and the blood, From Thy wounded side which flowed,

Be of sin the double cure, Save from wrath and make me pure.
Look how Paul connects the rock that Moses struck to Jesus:
Moreover, brethren, I do not want you to be unaware that all our fathers were under the cloud, all passed through the sea, all were baptized into Moses in the cloud and in the sea, all ate the same spiritual food, and all drank the same spiritual drink. For they drank of that spiritual Rock that followed them, and that Rock was Christ. 1 Corinthians 10:1-4
Read more about this incident in Exodus 17.
So Moses cried out to the Lord, saying, "What shall I do with this people? They are almost ready to stone me!" And the Lord said to Moses, "Go on before the people, and take with you some of the elders of Israel. Also take in your hand your rod with which you struck the river, and go. Behold, I will stand before you there on the rock in Horeb; and you shall strike the rock, and water will come out of it, that the people may drink." Exodus 17:4-6
When Moses struck that rock, life-giving water flowed from it to save Israel from certain death in a dry and thirsty land. That rock, Paul said, was Christ, for He was struck on the cross to provide life to sinners lost in sin. A Roman soldier thrust a spear into Jesus' side after He died, and water and blood gushed out — the blood that redeemed us from eternal death. The work is done and the ransom for sin is paid, and that redeeming blood is freely available to all who need salvation.
This is not where the story of the rock ended though. Another day came when the Israelites desperately needed water again, but this time Moses had to speak to the rock:
Then the Lord spoke to Moses, saying, "Take the rod; you and your brother Aaron gather the congregation together. Speak to the rock before their eyes, and it will yield its water; thus you shall bring water for them out of the rock, and give drink to the congregation and their animals." Numbers 20:7,8
Jesus died on the cross, once for all, and now we only need to speak to Him receive eternal life:
For "whoever calls on the name of the Lord shall be saved." Romans 10:13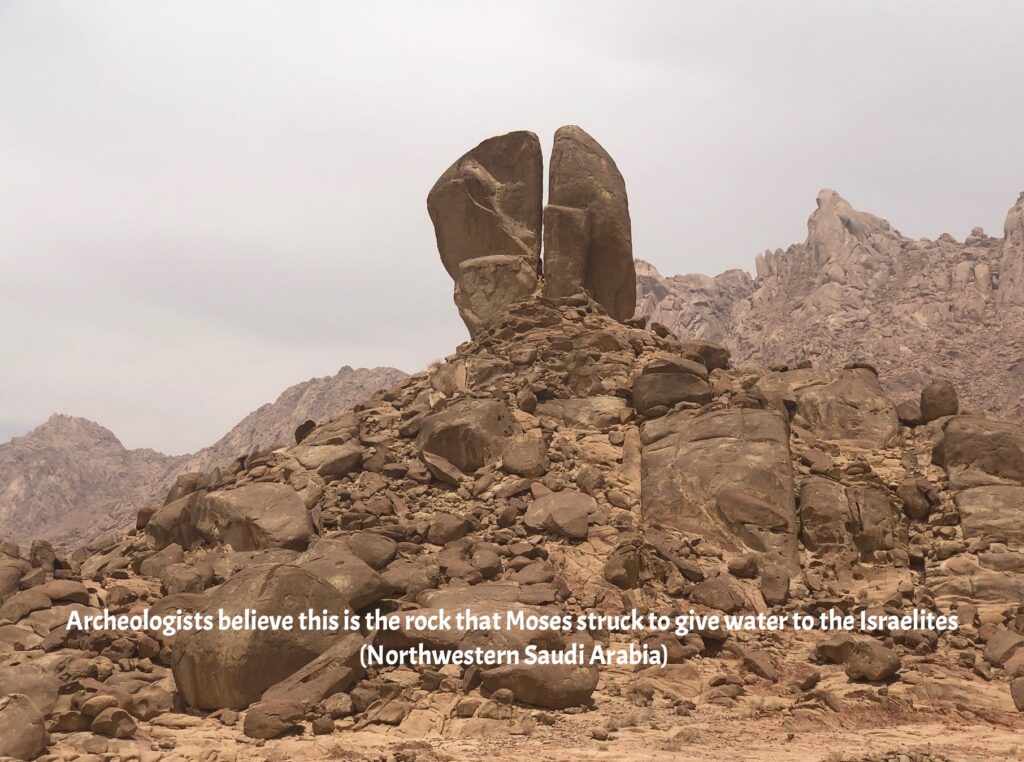 Jesus did all that had to be done, and there is nothing we can add to it. The work is complete; He fulfilled the law with all its requirements, by receiving the death penalty for our sin. He is the Rock in which we find shelter from the wrath of God that is to come upon those who reject Him.
Not the labor of my hands Can fulfill Thy law's demands;

Could my zeal no respite know, Could my tears forever flow,

All for sin could not atone; Thou must save, and Thou alone.
God, knowing the storms we face, gave us His Word to anchor our faith to in times of trouble. His promises give us perspective when there seems to be no way out, like looking down on matters from above to find the exit from the maze. The enemy loves to bring confusion into chaos in an effort to hide a snare in a hopeless situation, but we have a Rock that is higher than ourselves!
Hear my cry, O God; Attend to my prayer. From the end of the earth I will cry to You, When my heart is overwhelmed; Lead me to the rock that is higher than I. For You have been a shelter for me, A strong tower from the enemy. Psalm 61:1-3
Our faith in the everlasting God and His unfailing promises provide strength when, in the natural, there is none. Jesus is the cornerstone of our faith, a rock that cannot be moved. His love remains steadfast when we find ourselves in trying times; He is not shaken when we are, or when we stumble or fall. Our trust in Him is secure. There is no other to trust in; He is the only way to the Father, and for that reason He is both loved and hated:
Therefore, to you who believe, He is precious; but to those who are disobedient, "The stone which the builders rejected Has become the chief cornerstone," and "A stone of stumbling And a rock of offense." They stumble, being disobedient to the word, to which they also were appointed. But you are a chosen generation, a royal priesthood, a holy nation, His own special people, that you may proclaim the praises of Him who called you out of darkness into His marvelous light… 1 Peter 2:7-9
Jesus, our Rock, promised to never leave or forsake us; He will be with you in your darkest moment. When life on earth begins to fade, and death knocks at the door, His presence will guide you safely home. Mr. Toplady, clearly a man who knew to fix his eyes on the Lord, ended his hymn with these words of comfort:
While I draw this fleeting breath, When my eyes shall close in death,

When I rise to worlds unknown, And behold Thee on Thy throne,

Rock of Ages, cleft for me, Let me hide myself in Thee.
You have a Rock that cannot be moved, no matter what comes against you. King David faced many enemies, both as a shepherd and as king, but he overcame them all because he put his trust in Him. He set a good example for all of us who still have victories to be won, as his song below explains:
I will love You, O Lord, my strength. The Lord is my rock and my fortress and my deliverer;
My God, my strength, in whom I will trust; My shield and the horn of my salvation, my stronghold. I will call upon the Lord, who is worthy to be praised; So shall I be saved from my enemies. Psalm 18:1-3
You are composing your own song as you fight your fight of faith. Make no mistake, you are being watched as a person of faith. Your song will speak to those who look to you for courage, and provide strength to those who come after you, if you live your life on the Rocks provided for you.